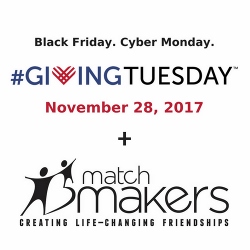 Mark your calendars for the sixth annual #GivingTuesday campaign on Tuesday, November 28!

Big Brothers Big Sisters of Central Iowa invites you to be part of its campaign and support life-changing mentoring relationships here in Central Iowa. The campaign will kick off later this month and will continue until the end of November. Be part of this exciting giving opportunity by sharing our social media posts, emails, or signing up to be a Match Maker.
Match Makers is Big Brothers Big Sisters of Central Iowa's monthly giving program and by making a monthly contribution, you will be helping introduce a waiting Little Brother or Little Sister to their Big and support their friendship. Our goal for #GivingTuesday is to get 50 people to sign up to be Match Makers (donating $25 per month).
Did you know that $300 per year ($25/month) would:
-Enroll 24 new volunteers to the Community-Based Program
-Make 24 new School-Based Matches
-Provide background checks to 20 Bigs
Learn more (or sign up to become a Match Maker): bbbscimatchmakers.org.
Learn more about #GivingTuesday + Match Makers by contacting Kyn Hedrick, Director of Donor Relations, at khedrick@bbbsia.org or 515-288-9025 x224.