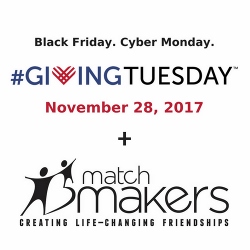 Show your heart for Central Iowa youth by supporting Big Brothers Big Sisters of Central Iowa (BBBSCI) on the sixth annual #GivingTuesday November 28!

What is #GivingTuesday?
#GivingTuesday is a global day of giving. Celebrated on the Tuesday after Thanksgiving, Black Friday and Cyber Monday, #GivingTuesday kicks off the charitable season.
What can you do to help?
Become a Match Maker on #GivingTuesday and spread joy all year long to youth in our community. Match Makers is BBBSCI's monthly giving program whose proceeds support mentoring relationships between youth and volunteer mentors.
BBBSCI's 2017 #GivingTuesday goal is to get 50 people to sign up to be Match Makers at the $25 giving level.
Did you know that $300 per year ($25/month) would:
-Enroll 24 new volunteers to the Community-Based Program
-Make 24 new School-Based Matches
-Provide background checks to 20 Bigs
Here are 4 easy ways to spread the word:
-Share BBBSCI's Facebook posts
-Share BBBSCI's Instagram posts
-Post to your LinkedIn account
-Use the hashtag, #50mm4bbbsci, in your social media posts
Thank you in advance for your support!
Learn more about #GivingTuesday + Match Makers by contacting Kyn Hedrick, Director of Donor Relations, at khedrick@bbbsia.org or 515-288-9025 x224.