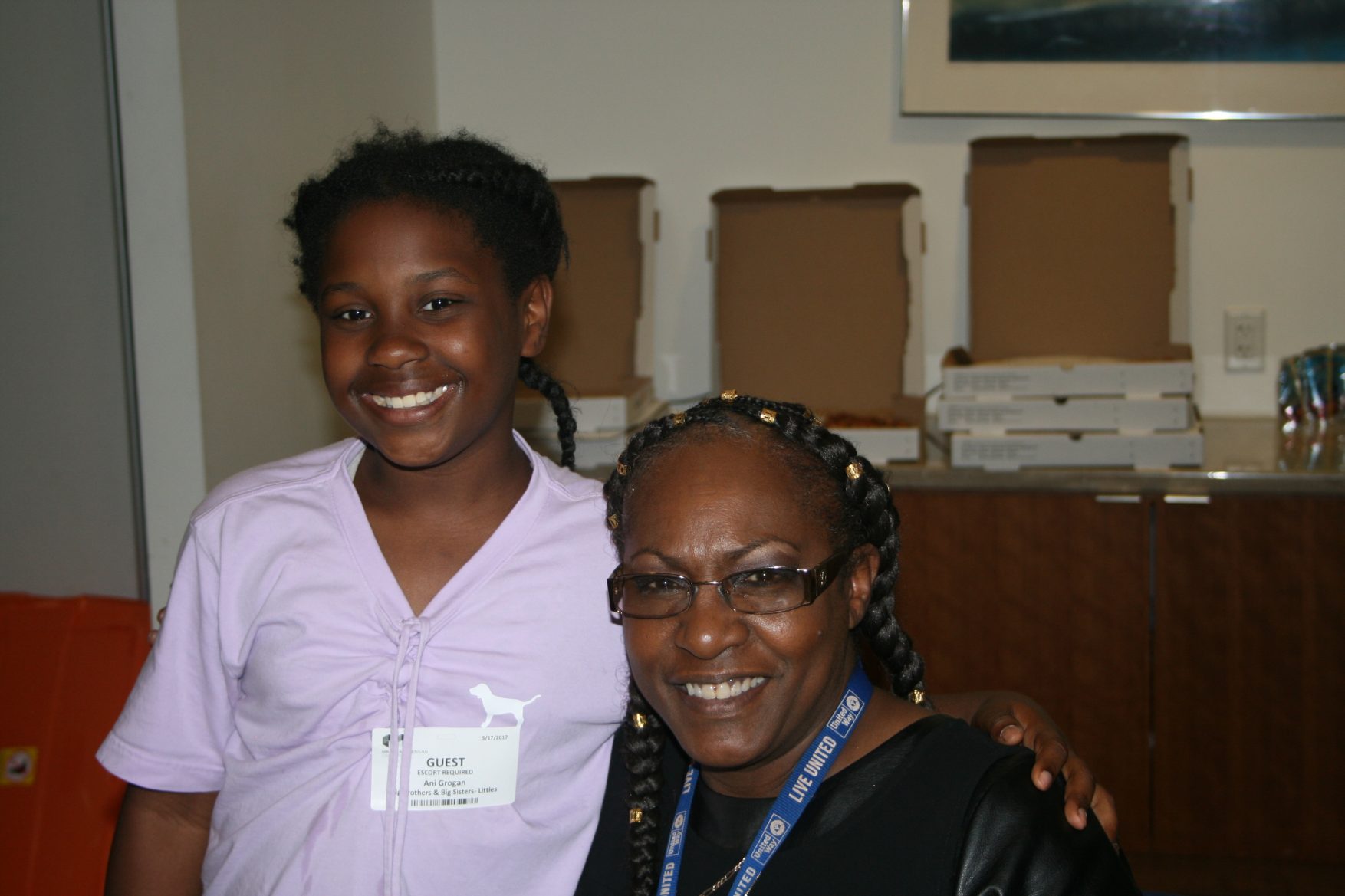 During Big Sister Fannette Elliott's childhood, her parents stressed the importance of education. Fannette was a good student, but faced peer pressure because her school smarts and desire to excel were sometimes viewed as a negative by her peers. Fannette rose above peer pressure, graduating from high school, earning her college degree, and becoming a successful professional. Now, Fannette is encouraging her Little to do the same. Over the span of her career, she has always made a priority of giving back to the community. Fannette has accomplished this through volunteering as a Big Sister in Big Brothers Big Sisters of Central Iowa's (BBBSCI's) Workplace Mentoring Program. Fannette has been involved in Workplace Mentoring since 2014 and also volunteered with Junior Achievement of Central Iowa.
Fannette serves as the Marketing Manager – Compliance/Policy Holder Marketing/Fulfillment at Mercer. Her employer is a business partner for Workplace Mentoring. Through Workplace Mentoring, BBBSCI brings middle school students from a partner school to Mercer to meet with mentors bi-weekly on early out Wednesdays during the school year. This is the second year Fannette and her Little Sister Ani have been matched.
Fannette's volunteer experience with Junior Achievement was one of the factors that influenced her to become a part of Workplace Mentoring.
"I found that [Junior Achievement] experience very rewarding… helping to make a difference in these students' lives, being a positive role-model and verbalizing the importance of graduating and making plans to go to college. When Mercer announced the opportunity to participate in our current program [Workplace Mentoring], needless to say I was very excited," said Fannette.
As part of Workplace Mentoring, Fannette and Ani participate in skill-based learning activities, like educational, career exploration and resume building. They also enjoy the time set aside for one-on-one communication and talk about how is school going and also providing advice on school issues and/or concerns.
"All activities are building blocks and opportunities to share with each other," shared Fannette.
Fannette is passionate about education, giving back and sharing her experiences and knowledge to positively impact the lives of the Littles she has been matched with.
"I can't stress the importance of education because this determines your future. While I was in school, I was always the student who was called the 'teacher's pet' or back in the day, a 'square.' The peer pressure related to the fact that being smart was seen as a negative. But to rise above that peer pressure, I stayed focused on completing high school, so that I could go to college to earn a degree to have a better life; which I did! I am passionate about having an arena to share and the BBBSCI program allows me to do that…one student at a time!" said Fannette.
Sometimes, role models in the community are concerned about the time commitment involved in becoming a Big. Workplace Mentoring is unique, because the program takes place at the employee's office, removing travel time and offering convenience for employee's schedules.
"I would strongly encourage others to join if they have a passion for making a difference in these students' lives. Also, the time commitment is ideal because the program occurs during working hours. This is a big plus because I couldn't fill the time commitment in the regular program," explained Fannette, "When I try to recruit mentors, the first reason stated is that they would love to do but can't meet the time commitment. But when I state that it is during working hours, the conversation changes to I would like to be considered, what do I need to do? That said, I believe this program provides the opportunity for Bigs to participate and is an excellent way to market the program!"
Over the past couple of years, Fannette has seen positive changes in Ani and their bond has become stronger.
"Last year was our first pairing and it took a few sessions for both of us to feel comfortable with each other; which is normal. At the end of last year, I was hoping that our pairing went well because I believed both of us had positive experiences. I was a little nervous but I asked my Little if she would continue in the program and was so happy when she said yes! This year we are together again and I am amazed at how much she has matured over the summer," explained Fannette.
Thank you to Fannette and Ani for being part of Workplace Mentoring. BBBSCI is grateful to Mercer for its partnership and support. Is your business interested in learning how it can be part of Workplace Mentoring? Please contact Tony Leo at tleo@bbbsia.org or 515-288-9025 x 226.