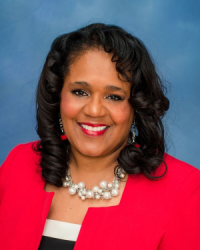 The Big Brothers Big Sisters of Central Iowa (BBBSCI) Board of Directors is pleased to welcome Renee Hardman as the Chief Executive Officer of Big Brothers Big Sisters of Central Iowa.
With a track record as a highly engaged, compassionate leader, Renee brings to BBBSCI proven results and exemplary skills in program development and management, strong community and corporate relationships, fundraising, fiscal management and youth-driven programs.
Renee has more than 25 years of executive level HR experience and has served as board member for nearly 20 nonprofits in the area, including our own. Renee graduated from Drake University with a BA in Psychology and later earned an MBA. Most recently, Renee founded Hardman Consulting, LLC, a human resources consulting firm. Previously, she was the Senior Vice President of Human Resources and then Senior Vice President of Community Relations at Banker's Trust. In 2017, Renee was the first African American woman elected to the West Des Moines City Council.
Renee has received numerous awards, honors and recognition from Des Moines-area organizations. These include, but are not limited to, being inducted into the Iowa Women's Hall of Fame, named to the Des Moines Register's 2018 People to Watch list, earning the 2018 Women of Impact and the 2013 National Alumni awards from Drake University, Connie Wimer Spirit Award and the Business Record's Women of Influence Award.
The Board tapped Renee as the best individual to share and grow our mission, while maintaining a stable and effective organization and having an even larger impact on the lives of central Iowans. A BIG herself, Renee was introduced to BBBSCI in 1983 when she was matched with her Little Sister, who was from Sierra Leone in West Africa. In 1996, she was named Big Sister of the Year. Renee and her LITTLE have remained in contact since her LITTLE'S high school graduation and are life-long friends.
Renee's professional, civic and volunteer experiences are proof of her commitment to youth and our community.
Renee is looking forward to partnering with YOU as we celebrate an important milestone of 50 years of mentorship here in Central Iowa and having a positive and impactful difference in the lives of our most precious assets – our youth.
Please join us in welcoming Renee Hardman to Big Brothers Big Sisters of Central Iowa, and do not hesitate to reach out to her with any questions or ideas at 515-288-9025 ext. 228 or [email protected].