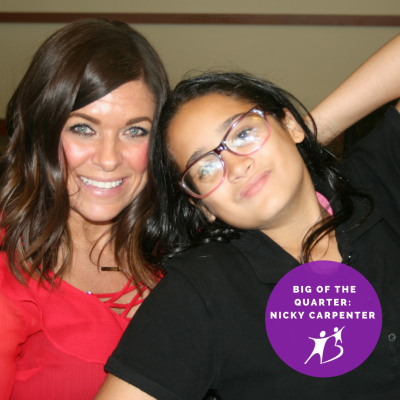 A couple of times each month during the school year, you will find a group of Harding Middle School students at NCMIC Group, Inc. These students are there for a special reason- Big Brothers Big Sisters of Central Iowa's (BBBSCI) Workplace Mentoring Program. Nicky Carpenter, Attorney Shield Underwriter at NCMIC Group, Inc., is a Big Sister in this program. Thank you Nicky- we are so grateful to you and NCMIC Group, Inc.
NCMIC Group, Inc. was initially part of BBBSCI's Pathways to Success Program in 2014, which is now called Workplace Mentoring.
"A great group of us from NCMIC/Professional Solutions Insurance Company would travel to the middle school we were partnered with on each early out day during the school year," Nicky said of Pathways to Success.
As part of Workplace Mentoring, middle school students travel to their business partners' office every other week on early out Wednesdays. In 2016, Nicky became even more involved by becoming NCMIC Group, Inc.'s point of contact person for the program.
Workplace Mentoring is unique because it exposes youth to a workplace environment and new experiences. Nicky has been matched with her Little Sister, Jalia, since 2016. This fall, Jalia will begin 8th grade.
"I am so lucky to work with so many great people who want to give back and be a mentor," said Nicky.
During Littles' visits at NCMIC Group, Inc., they get the full workplace experience that involves career preparation.
"We like to try to get the Littles to see more of the big picture. This gets them thinking about the future and why they need to work hard and stay in school. This program gives them an idea of what they can work towards for their future," explained Nicky.
What happens at Workplace Mentoring?
– Littles work on college and career exploration and build their relationship with their Big by just having fun and getting to know each other.
-Littles learn their personal strengths, careers that interest them and how their career interests correlate with their strengths.
-Littles learn how to write business proposals, budgets and resumes.
-Littles begin to envision the possibilities for their future.
In addition, Nicky and her fellow Bigs throw the Littles holiday, valentine and end-of-year parties.
"The Littles get excited about the special treat we bring them, lawn games, a fun craft and of course a small gift. Those days are just fun and special," reminisced Nicky.
Each Little benefits from the program in their own unique way. Throughout the two years they have been matched, Nicky has seen Jalia's confidence grow.
"I see a change in how she carries herself and how she speaks to others. She has even gotten involved in a school musical and had a lead role! I am very proud of her," Nicky said.
Nicky encourages others to get involved by becoming a mentor. Did you know that BBBSCI currently has close to 150 youth on its waiting list?
"There are so many kids that would benefit from the program and having someone they know is there for them- someone outside of their family and school to talk with, gain different perspectives with… and have fun with!" said Nicky.
Learn how you can become a mentor by contacting Shayna Bell, Volunteer Enrollment Coordinator, at [email protected] or 515-288-9025 x227.