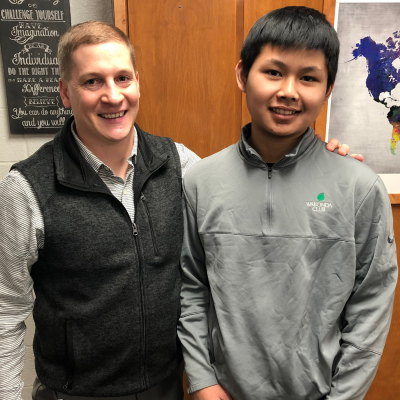 Congratulations to Jason Zehr for being named Big of the Quarter! He has been involved with Big Brothers Big Sisters of Central Iowa's (BBBSCI) Workplace Mentoring Program since fall 2015.
"I nominated Jason because he is an exceptional example of the impact you make on someone's life when you stay committed and give your time. Jason also goes above and beyond to make sure program is running smoothly at his organization. He serves with a willing heart," said Kayli David, BBBSCI's School-Based Program Manager.
Jason is an Operational Risk Consultant in the Customer Care and Recovery Group at Wells Fargo Home Mortgage. BBBSCI's Workplace Mentoring Program provided Jason the perfect opportunity to volunteer as a Big.
"Around the time my first daughter was born, I became interested in BBBSCI as I wanted to become a positive role model. In a way, I wanted to show her at a young age that it's important and extremely satisfying to give," explained Jason. "However, time constraints wouldn't allow for me to get a Little at that time. As luck would have it, I came across an option to become a Big through Workplace Mentoring, which allows for me to participate while at work. To me, it was a no-brainer! Creating a relationship with a 6th-8th grader while focusing on school and career related activities has very rewarding for me."
As part of Workplace Mentoring, Merrill Middle School students travel to Wells Fargo to meet with their mentors bi-weekly on early out Wednesdays during the school year. Eh Say is in seventh grade. Jason remembers Eh Say was really shy when they first met, and Jason was nervous that he'd never talk to him.
"As time has gone on, Eh Say has opened up more than I imagined he would. I think I've gained a level of his trust, which allows him to talk candidly with me," said Jason.
In addition to working on college and career exploration, they have enjoyed many cool activities together. One that stands out to Jason is when they wrote letters to men and women currently serving overseas.
"While I can't attest to my artistic ability, I can assure you that Eh Say and I both really enjoyed creating something that seems so simple, yet could have a potentially great impact on a soldier. It's truly humbling to think that we might have made a positive impact by doing something so simple," said Jason.
Being a mentor has encouraged Jason to get more involved in the community- even if it is in small ways, it still makes a difference.
"I can't say enough about how much I appreciate the Workplace Mentoring Program. It's given me the chance to positively influence the life of a couple of young kids. And these are kids that WANT a role model. I've also found that it's not hard to get involved in community giving. I've become more involved at my kid's schools, through work, and with my church. Little things with seemingly little effort make a difference," said Jason.