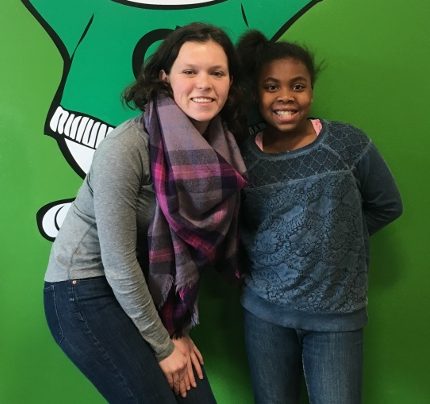 College is filled with a lot of BIG changes. One constant for Drake University student, Caroline Hempleman, has been her match with her Little, NaNomi. They have been matched for more than three years through Big Brothers Big Sisters of Central Iowa's (BBBSCI) School-Based Mentoring Program.
When Caroline began college, there were a lot of opportunities for her to get involved in campus life and in the community. Big Brothers Big Sisters of Central Iowa stood out to her when she was at an activities fair, where she signed up to become a Big Sister. Caroline is majoring in Sociology/Anthropology, Religion, and French at Drake University. She is also the President of the Drake Outdoor Leadership Club and Engaging the Spectrum.
Caroline was matched with NaNomi when she was in first grade. Caroline meets with NaNomi, who is now a fourth grader, at school during the school year for 30-45 minutes each week. During school breaks and summer, Caroline writes NaNomi postcards to keep her updated on what she has been up to.
"We're both excited to see each other each week, and I love how excited she is to tell her friends that her Big Sister is here when I show up in her classroom," said Caroline.
When they are together, they spend the first part of their time reading books aloud. They have bonded over reading, and NaNomi's reading skills have improved.
"I have loved reading with NaNomi! When we started working together all those years ago, reading was one thing that we set out to work on because it was a difficult subject, but seeing her improvements through the years has been so neat. It's also just a nice break from the chaos of the rest of the school day for both of us to sit down and read together," said Caroline.
Since their match began, Caroline has seen many positive changes in NaNomi, including some positive changes in her self-esteem.
"She was a much quieter, soft-spoken girl when I met her, so seeing her come out of her shell, not only with me, but also with her classmates and teachers as well is awesome," explained Caroline.
Caroline values her time with NaNomi each week and is grateful for their friendship.
"I would say it's a really good way to get more involved in the community and build a relationship with someone you would not cross paths with otherwise. I have found it to be a wonderful constant throughout my college career, and I hope that NaNomi has had that same experience on her end," said Caroline.