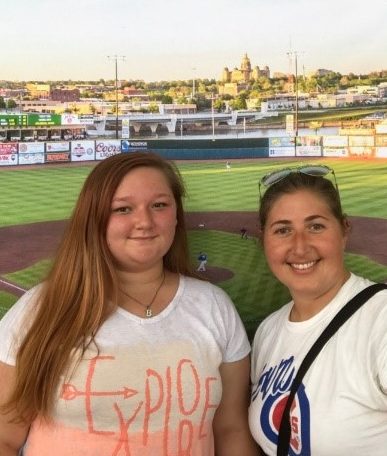 Congratulations to Danielle VanRiper of Midland National Life Insurance Company (West Des Moines) for being named Big of the Quarter! Danielle was nominated by her Match Support Specialist, Taylar Neighbour, for this honor. Danielle has been matched with her Little Sister Breya for 4 years! Their match began in BBBSCI's School-Based Program, and then transferred to the Community-Based Program when Breya finished elementary school.
"Danielle and Breya transitioned their match to our Community-Based Program beautifully, and it's been a joy to see their relationship evolve and grow over the past year and a half," said Taylar. "The Community-Based Program has allowed Danielle and Breya to try new activities, get out in the community, and support one another in new ways! They love shopping at the local malls, watching movies, grabbing a bite to eat, or pampering themselves with a manicure/pedicure. Breya has really opened up and ventured out to try new extra-curricular activities this year, one of which was basketball, and Danielle was so excited to make it to some games and cheer Breya on from the sidelines."
When asked why she decided to become a Big, Danielle shared, "…So I can be a great influence in a Little's life." She reflected on many of the fun times she's had when she and Breya get together and shared that her favorite outing was their trip to the Omaha Zoo. "[Breya] absolutely loved seeing all the animals, and I enjoyed watching her light up as we discovered new areas to explore.
Congratulations, Danielle, on receiving this honor!