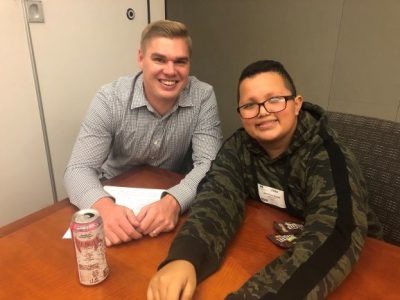 Big Brother Brock Ford has been involved with Big Brothers Big Sisters of Central Iowa (BBBSCI) for the past five years. His employer, Marsh/Mercer, partners with BBBSCI for Workplace Mentoring. Brock works as an Operations Manager at Marsh/Mercer.
Brock first became a Big in BBBSCI's Pathways to Success program. This program consisted of Bigs traveling from their workplace to the middle school where program was held. Four years ago, BBBSCI started a program similar to Pathways to Success called Workplace Mentoring. This program transports middle school students to the workplace partner where they meet with their Bigs to learn about career exploration, college exploration, and life skills. Brock has enjoyed the career preparation aspect of the program. A past activity included a Shark Tank pitch.
"I thought it was great for the students to get up in front of the class and present their ideas. Working my way up to the leadership level and speaking in front of people is a big part of the job. If you can't communicate effectively, sound confident and sell your ideas- you will struggle to lead those around you," said Brock.
Through this program, Brock was matched with Little Brother Trevor from sixth grade until he graduated from middle school. Brock enjoyed the program so much, he returned and mentored Little Brother Alberto. This year, Brock is working with the Alberto's younger brother, Jose.
"One of the conversations that made me feel most proud is halfway through our sessions, Alberto mentioned how much fun he was having and told his mom that his brother, Jose, needs to be in the program next year and placed with me," explained Brock. "My main goal during these sessions is to build a connection. The fact that Alberto recommended me shows I have accomplished that."
Are you interested in learning how to become a Big like Brock? Please contact Volunteer & Recruitment Coordinator- Danielle Kuhn at [email protected] or 515-288-9025 x227 for more information.