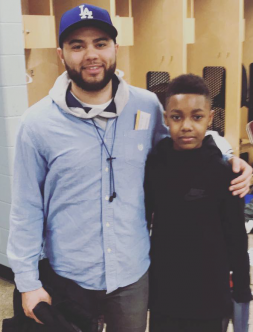 When Anthony Lyne was in elementary school, he had a Big Brother through the School-Based Mentoring Program. Anthony's Big made such a positive impact, he told himself that when he was in a position to give back to his community, he would become a Big and pay it forward.
Fast forward to May 2015 when Anthony was matched with Little Brother Tyeece in the Community-Based Mentoring Program. This May, they will celebrate their 5-year anniversary.
"We like to do anything that enables us to have an open conversation," said Anthony.
They like to shoot hoops, cook food, hike and roller skate. Anthony even coached Tyeece's 5th grade tackle football team!
"It's extremely rewarding. It makes you feel incredibly humbled to be able to have a constructive influence on someone that may be on the verge of a totally different life path," explained Anthony, "It's encouraging to see your Little develop even more as a better individual by implementing the timeless things you chat about and by what they see in you as a Big: life lessons, character features, work ethic."
Are you interested in becoming a Big? Please contact Danielle Kuhn, Volunteer & Recruitment Coordinator, at [email protected] to learn how you can Defend the Potential of a child in our community.