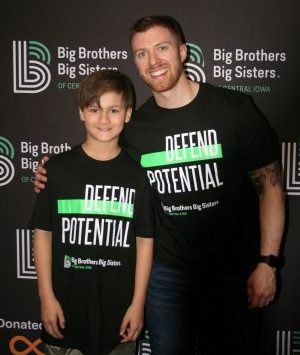 Becoming a Big Brother was part of Reid's 2017 New Year's resolutions. Three years later, Reid and Little Brother Shawn continue to share adventures together, including watching superhero movies, playing outdoor sports, and eating good food.
Shawn has enjoyed new activities with Reid, including his first time going to a movie theater to see a Spider-Man film. "It gave me goosebumps to see the look on his face," Reid said.
Shawn had also not been to a college football game until Reid took him to see the Iowa Hawkeyes. As an UI alumnus, Reid talked to Shawn about his potential to attend college one day.
As his mentor, Reid encourages Shawn to choose kindness and has noticed how his caring and concern for others has grown since their match began. Shawn is doing better in school and getting along more easily with his classmates. "Littles could come from any number of circumstances, but the bottom line is that every child benefits from additional positive adult role models in their life."