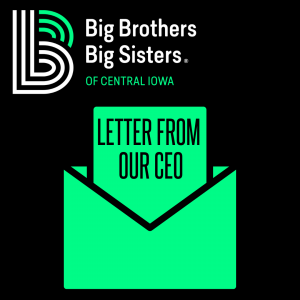 Dear Defenders of Potential,
I have both a heavy and hopeful heart as it relates to the recent course of events that our country has faced. Let me first applaud each of you for supporting us through the COVID-19 pandemic. You have been resilient and have found creative and meaningful ways to continue to Defend the Potential of our young people. Some of you have written notes, sent cards, and provided financial support in our time of need. No matter what you have done, even if it is a simple thought on how we are doing, it has been a blessing to our organization.
While we have been pivoting and surviving during this pandemic, we were hit with another crisis of epic proportion. As a result of the death of Mr. George Floyd, it has awakened the spirit of many young people and folks from all races and walks of life. Please know that Big Brothers Big Sisters of Central Iowa will not allow his death to be in vain. We have embarked upon a journey to lean into this movement of dismantling racism. We are continuing to pursue ways in which we can be a voice for you and our Littles. As we travel this journey together we will be stronger and very well poised to enhance the relationships of our Bigs and Littles and to ensure that our values of diversity, inclusion, and equity will continue to be paramount in our culture. I welcome your thoughts, ideas, and concerns.
Let's work together in bringing about positive change that will allow all of us to experience life in a manner in which we are never judged on the race of our skin but by our character. As James Baldwin states, "Not everything that is faced can be changed, but nothing can be changed until it is faced." Our youth are depending on each of us. Let's change this world together.
Warmest Regards,
Renee Hardman
Chief Executive Officer
Big Brothers Big Sisters of Central Iowa
[email protected]
515-288-9025 x228