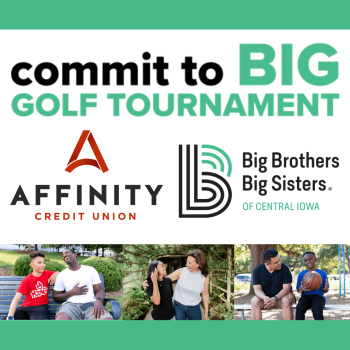 Gather your team for Affinity Credit Union's 28th annual charity golf event on August 17!
Join us for a fun-filled day of golf, networking, special events and raising funds for Big Brothers Big Sisters of Central Iowa (BBBSCI)!
Thank you to Affinity Credit Union for choosing BBBSCI as its nonprofit partner for the Affinity Credit Union Commit to BIG Golf Tournament.
All proceeds raised from Affinity Credit Union's event will be donated to BBBSCI.
If you are interested in supporting BBBSCI through their event, please see the details below!
What: Commit to BIG Golf Tournament
When: Wednesday, August 17
Time: 8:00 AM  Registration
9:00 AM Shotgun Start
Where: Toad Valley Golf Course
Price: $450 per foursome (includes lunch, drinks, awards, giveaways & prizes)
Please click here to register your team by August 10.
Thank you to Affinity Credit Union for organizing a great event to support BBBSCI and help Defend the Potential of youth in our community!