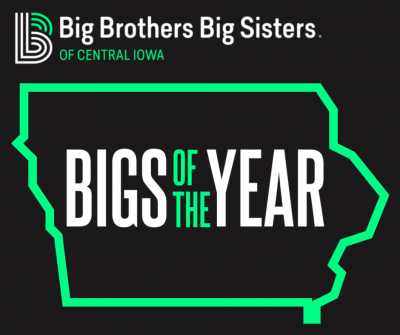 Big Brothers Big Sisters of Central Iowa is excited to present the Iowa Bigs of the Year: Kyle Haindfield and Katie Wainwright. Their Match Support Specialist, Chad Randleman, shares a special message below.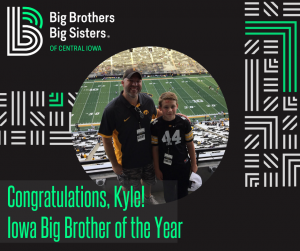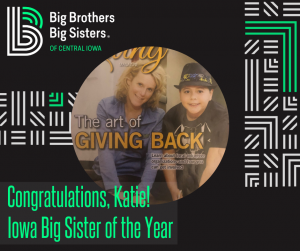 Iowa Big Brother of the Year: Kyle Haindfield
Big Brother Kyle has been a Big with Big Brothers Big Sisters beginning in 2000. Kyle has been matched with Michael since February 2016 in our Community-Based Mentoring Program. Michael has had a difficult upbringing and life hasn't always been easy. He often found himself not being passionate about anything. When Michael first met Kyle, they would do traditional outings like going to sports events, movies, and outdoor activities, but Kyle struggled to see a spark of interest in Michael. Kyle works in technology and knows his way around a computer. One day Kyle decided to build a robotics kit with Michael. This changed Michael's world for the better- he fell in love with technology and robotics. I always bring up the future and encourage him to continue to grow and learn so he will have a lot of options when he seeks out a career.
During Covid-19, Kyle has found ways to stay connected with Michael through video chats and phone calls. Kyle has even stopped by his house to drop off hand soaps, sanitizer, and a robot kit. Congratulations to our Big Brother of the Year, Kyle!
Iowa Big Sister of the Year: Katie Wainwright
Congratulations to our Big Sister of the Year, Katie! She has been matched up with her Little Brother Jacob since March 2015. During the last five years, they have done many different activities, ranging from teaching Jacob how to play catch to organizing a pool party for their two families. Jacob was even in charge of deciding what food and drinks they would have for their families. One really special thing about this match is their huge hearts. A big part of Katie's life is giving back and volunteering her time- she has introduced Jacob to volunteering and these values. She wants Jacob to know what it feels like to make a difference. During these volunteer opportunities with Jacob, she gets to watch how volunteering can truly transform someone. She loves seeing Jacob filled with the satisfaction of knowing he gives his time to others and, because he does, others benefit from it.
The world has changed since COVID-19, but this match has continued to connect. Jacob lives by a high school track, so Katie will meet him there, and they catch up while walking (6 feet apart, of course). During these visits she often drops groceries off to the family, as well.
Congratulations, Kyle and Katie!