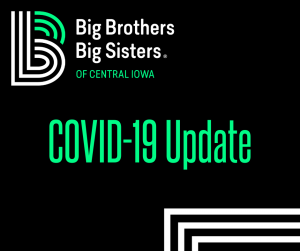 Dear Bigs and Families,

Big Brothers Big Sisters of Central Iowa's priority is always our Littles' health and safety and that of their families, our Bigs, and our staff. As we continue to proactively review policies and monitor the presence of COVID-19 in our community, we want to share the following guidelines and recommendations:
Polk County Health Department reminds everyone to avoid the "Three C's." With COVID-19 cases on the rise throughout the state of Iowa and colder weather driving people indoors, it is important to avoid:
1. Crowded places – Don't go to gatherings where you can't keep six feet between yourself and others.
2. Close contact – Wear a mask and stay 6 feet away from people you don't live with.
3. Confined spaces – Small spaces with poor ventilation increase the risk of infection.
Additionally, wear your mask over your nose and mouth and wash your hands often to decrease the risk of getting COVID-19 or unknowingly spreading it to others.
The health and safety of all of those involved in our entire BBBSCI Family is and remains our top priority. To that extent, BBBSCI strongly recommends the following guidelines:
All in-person outings are completely voluntary. All Bigs, Littles, and families should use their discretion when considering scheduling an in-person outing. If you choose to get together in-person:

Each Big, Little, and Parent/Guardian must discuss and be comfortable with the potential exposure/risk before each in-person visits can occur.
Bigs and Littles must wear a mask at all times and practice proper hygiene, including washing hands and bringing hand sanitizer with you to use. BBBSCI has free masks and hand sanitizer available should you need them.
Choose activities that allow for physical distancing.
Stay local and keep outings to a reasonable length. We recommend shorter outings as possible.
Avoid all physical contact; please do not shake hands, high five, or hug.
Bigs are permitted to transport Littles at this time. However, Littles should sit in the back seat to help with physical distancing and both parties should wear a face covering. Having the Parent/Guardian bring the Little to meet the Big at a public place is also an option to consider.
Connecting virtually (FaceTime, Zoom, phone calls, Facebook Messenger, etc.) is an encouraged option for matches at this time. If you need support in planning virtual activities, check out our Little Big Virtual Academy found here: http://www.bbbsia.org/little-big-virtual-academy or contact your Match Support Specialist.
Please understand, while BBBSCI is providing the above guidance in relation to in-person visits, the final decision resides with the Big, Little, and family's preference and comfort level.
We know that our youth need us more than ever. COVID-19 has taken a toll in many ways. We also know that with the learning gap, our Littles could use more assistance with homework, reading and stimulation of the mind. We are asking each Big to be creative and not allow numerous weeks to go by with no contact. While COVID-19 has created challenges, our Littles need us more so now than ever.
Please review our Frequently Asked Questions or reach out to your Match Support Specialist with any additional questions. We encourage you to make the best decisions for you and your family, stay informed, and continue to follow the Center for Disease Control's recommendations for preventing the spread of illness.
Thank you for all you do for youth in our community. Stay well!
Renee Hardman, CEO
Tony Leo, Director of Programs & Operations