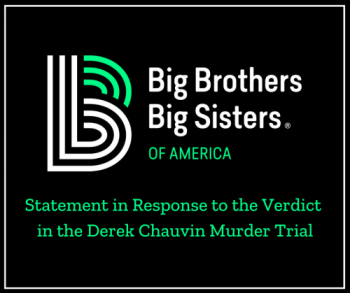 For many, the world changed when they saw the horrific video of a man, George Floyd, who was killed May 25, 2020, while in police custody.
George Floyd's murder reopened the painful wounds that this country has always known, but in the midst of a pandemic, the spotlight on a video seen around world magnified the deep divisions in our country, surrounding race, prejudice, privilege, class, and perspective.
Like that day in May, today, April 20, 2021, the day a jury a jury convicted former Minneapolis Police Officer Derek Chauvin on three counts, will also be a day that won't be forgotten. The pain, the anger, the relief, the disbelief many of us feel is real, raw, and we must all give ourselves the space to feel however we may feel.
But like every pivotal moment in history, the question is, where do we go from here? What lessons can we learn? And with our children watching, how can we pave the way for them, for healing and understanding, after witnessing such trauma?
As a youth empowerment organization, we have a duty to care for the emotional well-being of our Littles. That healing must extend to their families, our Bigs and all of you, the committed Big Brothers Big Sisters staff at all of our agencies. It's the reason we launched our Relationship Responders program this year. Dr. Torie Weiston-Serdan, the CEO for The Center for Critical Mentoring and Youth Work, will be leading our efforts, along with Tanya Gibson, VP of Justice, Equity, Diversity and Inclusion and HR for the National Office.
First, Dr. Weiston-Serdan will convene a healing circle in Minneapolis, to provide a safe place for those who are seeking answers and support. Trained teams have already been working with our local agency in Minneapolis in preparation of the verdict and will remain in place to ensure they are equipped with the tools they need after living through this trauma.
Dr. Weiston-Serdan has also created this After Guide, which can be an important resource today, weeks, months from now, as the after affects of the trauma may not be evident until much later. Our support extends to the community of Minneapolis and across every community that we serve.
We are at the core a JEDI (Justice, Equity, Diversity, and Inclusion) youth empowerment organization, and our work will continue to ensure the most marginalized groups aren't forgotten.
We have witnessed injustices in our history, but what matters in that moment, is how we respond to it.
Our young people are resilient, and we ignite their potential by not just helping them survive, but thrive, so they can be better change agents of good, and empower the next generation faced with injustice.
Artis Stevens
President & CEO
Big Brothers Big Sisters of America