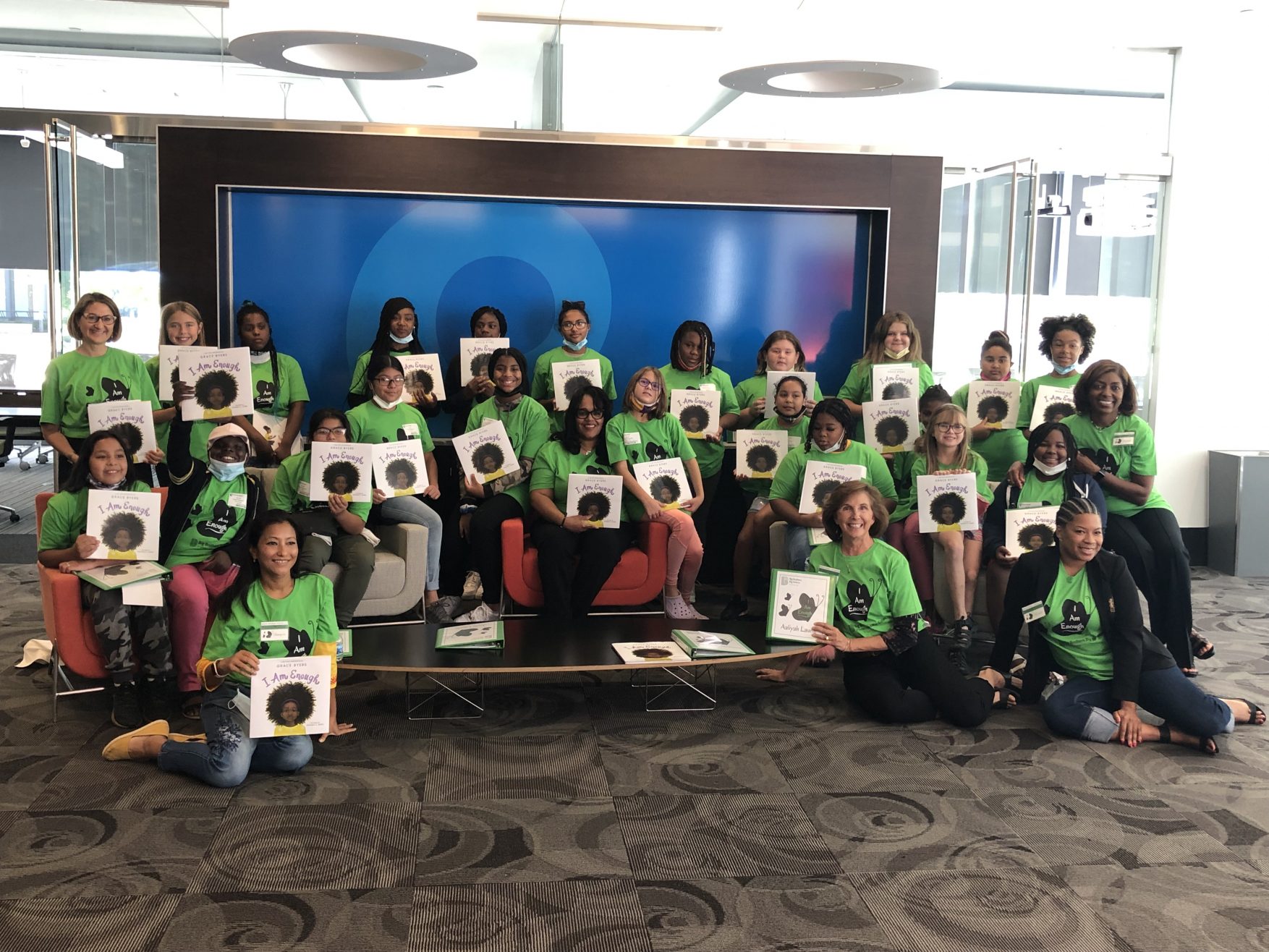 This fall, Big Brothers Big Sisters of Central Iowa (BBBSCI) launched I Am Enough, a new and exciting program for Little Sisters. This program is inspired by a book of the same title by New York Times bestselling author; Grace Byers.

"Our youth face so many challenges, especially young girls. This program, led by Champions from all types of backgrounds, will empower girls (ages 9-12) in our community to realize that they are enough," explained BBBSCI CEO- Renee Hardman.
Thanks to a partnership with Principal Financial Group®, workshops are held at its headquarters in downtown Des Moines. Girls (Littles) enrolled in our mentoring program are selected by BBBSCI staff to attend workshops with their mentor (Big). Each month, a couple of the women leaders (Champions) facilitate 90 minutes of learning and impactful exchanges. Some of the workshop topics include Who Am I?, Overcoming Obstacles, Valuing Your Uniqueness, and Feeling & Expressing Emotions. The Bigs then reinforce the learning messages. Miriam Lewis, Chief Inclusion Officer at Principal Financial Group®, is proud to be one of the 31 Champions.
"I took the stairs to get to where I am. This program will allow young girls to learn from the experiences of mentors and ultimately, take the elevator to their career destinations," said Lewis.
This is a year-long program and the first cohort includes 30 youth and 31 Champions. This program will continue each year with a new group of youth and champions for years to come.
The inaugural group of Champions include:
*Emily Abbas- Senior Vice President, Chief Consumer Banking and Marketing Officer, Bankers Trust
*Deb Alexander- 6th Grade Language Arts Teacher, Meredith Middle School (DMPS)
*Judge Romonda Belcher- Iowa Courts
*Jodi Beller- Faculty Member, ICAN
*Annie Brandt- Senior Vice President and Iowa Market Executive, Bank of America
*Debra Carr- C3 Coordinator, DMPS; Principal Consultant, Carr & Associates; Founder, Edge Academy of Iowa
*Dr. Mary Chapman- Retired Civic Leader
*Marta Codina- Region Bank President, Wells Fargo
*Lonnie Dafney- Assistant Vice President, Diversity, Equity and Inclusion, EMC Insurance
*Suzanna de Baca- President and Group Publisher, Business Publications Corporation
*Deidre DeJear- Owner, Caleo Enterprises
*Jacquie Easley- Director of Community & Diversity Services, MercyOne Des Moines Medical Center
*Rosalind Fox- Operations Factory Manager, John Deere Des Moines Works
*Dr. Angela Franklin- President, Des Moines University
*Katherine Harrington- President/CEO, West Des Moines Chamber of Commerce
*Dr. Haley Harvey- Dental Clinic Section Chief and Director of Dental Education, Broadlawns Dental Clinic
*Abena Imhotep- Director, Sankofa Strategies Consulting and Sankofa Literacy & Empowerment Group
*Angela Jackson- Senior Vice President, Diversity, Equity and Inclusion,  Athene
*Miriam Lewis- Chief Inclusion Officer, Principal Financial Group®
*Captain Lillie Miller- The City of Des Moines Police Department
*Sarah Noll Wilson- CEO, Sarah Noll Wilson
*Rosemary Parson- Senior Vice President of Policy Administration and Community Relations, EquiTrust
*Sanjita Pradhan- Director of Diversity and Inclusion, Greater Des Moines Partnership
*Mary Sellers- President, United Way of Central Iowa
*Kiley Skadburg- Chief Marketing Officer, The Iowa Clinic
*Barbara Stinson- President, World Food Prize Foundation
*Phonsavanh Sullins- Foundation Manager and Member Services Collaboration Partner, Businessolver
*Ashlee Vieregger- Senior Lead Advisor, Foster Group
*Marcia Wanamaker- Realtor, Iowa Realty
*Ida H. Wood- District Business Development Leader, Oasis, a Paychex Company
*Shekinah Young- Global Inclusion Consultant, Principal Financial Group®
"I believe in giving back! I had always struggled with confidence until I realized that I was actually growing and learning from my obstacles. I want to help young girls believe in themselves and inspire confidence that they can be successful!" said Codina.
This program is made possible with funding from United Way of Central Iowa and the Opus Foundation.