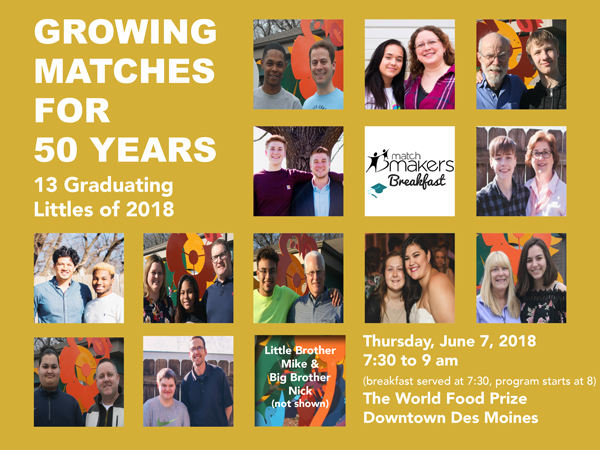 Hello, allow me to formally introduce myself: my name is Kyn Hedrick, and I am the Director of Donor Relations at Big Brothers Big Sisters of Central Iowa (BBBSCI). I am excited to share this with you today. I know that I love what I do because of the great support and relationships that we have with so many of you in our community. Your contributions, whether through volunteering or financial support, make a BIG difference in the lives of children that we serve. I want to personally thank all of you who help BBBSCI make a lasting impact in our community.
For 50 years, BBBSCI has been positively impacting youth in central Iowa by empowering them to discover and achieve their goals through meaningful mentoring relationships. In 2017 alone, we matched and supported 553 youth with volunteers who dedicated 28,000 hours to their Littles. Through experiences shared with Bigs, our Littles become more confident in school, in their ability to make decisions, and most importantly, in how they grow their relationships with family and peers.
What distinguishes BBBSCI from other mentoring programs in central Iowa is the longevity of our mentoring relationships. The average match length for our School-Based and Community-Based Mentoring Programs combined is 2.3 years, and 64.5% of our matches last twelve months or longer. Most importantly, Match Support Specialists are there every step of the way. They ensure Littles and Bigs are safe, having fun, and always connected to and supported by BBBSCI.
We still need YOUR help to invest in the lives of our Littles, our Bigs, and in our community. We have more than 200 children waiting to be matched with a mentor. How do I help you ask? It's simple- join our monthly giving program, Match Makers. We've been growing our matches for 50 years, and we plan to continue growing for the next 50 years, and beyond. We need your help! To give, please visit bbbscimatchmakers.org and read about why others give through our Match Makers monthly giving program. Your gift EMPOWERS US TO MAKE A DIFFERENCE for the next 50 years.
You are also invited to attend the Match Makers Breakfast on Thursday, June 7. Presented by Lincoln Savings Bank, this event celebrates our 13 Littles graduating from our mentoring program and high school. Hear inspiring stories about these graduates as you enjoy a light breakfast at the beautiful and historic World Food Prize. There is also an opportunity to enroll in Match Makers at the event. RSVP now!
With Gratitude,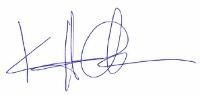 Kyn Hedrick
Director of Donor Relations