The Big Little Game Show Presented by Stine Seed Company
Defend Potential of Youth at our Newest Fundraiser!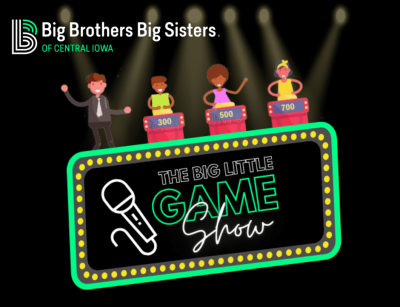 Big Brothers Big Sisters of Central Iowa's newest event, The Big Little Game Show, was held on Tuesday, December 13, 2022 from 6:15 to 8:15 pm at Grand View University's Viking Theatre. The Big Little Game Show is a team competition where local community leaders partner with BBBSCI volunteer mentors (Bigs) and youth mentees (Littles). They face off in a fun, friendly competition during this event. All proceeds benefit a new mentoring program serving 18-25 year-olds.
Littles:
Ella
Jniala
JuJu
Miya
Nikita
Shaun
Sophie
Tre
Bigs:
Travis Gorsch
Sterling Smith
Phonsavanh Sullins
Keesha Ward
Community Leaders:
Tyler Dingel- CBRE
Reed Rinderknecht- Foster Group
Deidre Williams- EMC Insurance Companies
Ida H. Wood- Paychex HR
For sponsorship opportunities, please contact Fund Development Manager- Lauryn Nystrom at (515) 217-4012 or [email protected].


Thank You to our 2022 Sponsors
Final Answer Presenting Sponsor