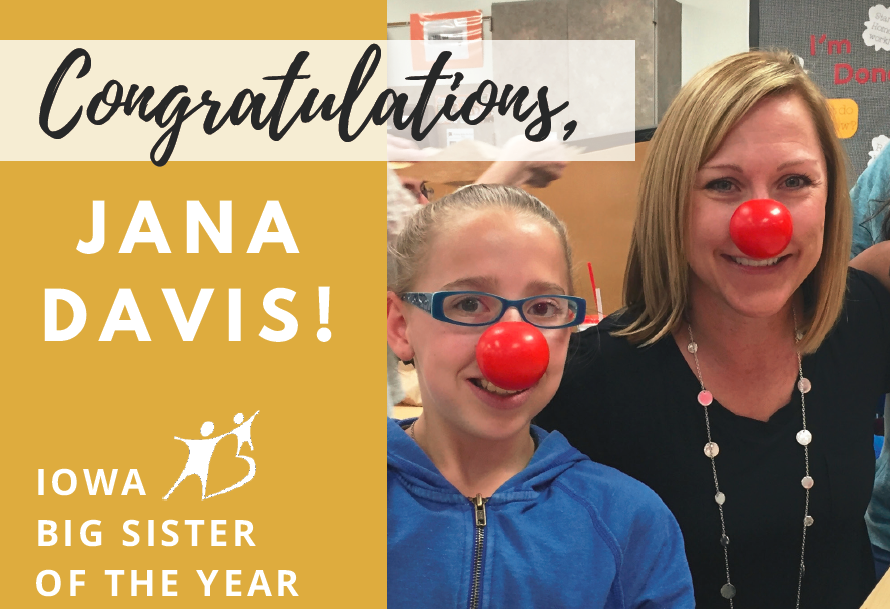 Jana Davis was recently named the 2018 Iowa Big Sister of the Year.

She is matched with Little Sister Hannah as part of Big Brothers Big Sisters of Central Iowa's (BBBSCI) Community-Based Mentoring Program. Jana and Hannah have been matched together since Fall 2015 and began their match in BBBSCI's Workplace Mentoring Program.
Jana shares her experiences as a Big Sister, and the difference it has made in her life:
"I'm not sure where it came from, but I've always wanted to be the 'helper.' As an adult, that part of my personality translated into seeking a service-minded profession as well as lots of volunteering throughout the years. I loved volunteering in large group settings, however, eventually I felt like I was missing out on feeling like I was personally making a difference. That feeling of a personal impact is what I was seeking when I first started learning about BBBSCI. I had been thinking about it off and on for over a year when the opportunity came up in my office to be part of BBBSCI's Workplace Mentoring Program… the timing could not have been more perfect! Because I was cautious about making such an important commitment, participating in the Workplace Mentoring Program was a great opportunity to get a taste of the BBBSCI's mentoring programs without the full commitment.
Hannah and I were matched in the Fall of 2015. When I met her for the first time, even though I could tell she was a bit timid, Hannah had a giant smile on her face and a twinkle in her eyes. Hannah has a big-heart and is extremely generous, always thinking of others first and choosing to give something away even though she may not have it herself. She's a smart, giving and very curious girl.
Because trying new things can sometimes be scary for anyone, when Hannah and I do activities together, I encourage her not be concerned about whether she knows how to do something because we can always learn together. I like to focus on learning new things not as being hard, but as being challenging and fun. I believe that exposing Hannah to new experiences over time- no matter how small and reinforcing her accomplishments, will make trying new things less scary. There is so much about life that is unknown, and instead of the unknown being stressful and uncomfortable, I want Hannah to learn that the unknown can also be exciting, fun, and faced with a sense of adventure! I believe that confidence in herself is what will make the difference.
As Hannah and I continued to get to know each other, our conversations eventually started to change. I'll never forget the day Hannah got into my car and said to me, "I have so much to tell you!" I am sure she didn't think much about it, but to me it meant that she was seeing me as someone important she could trust.  My hope for my relationship with Hannah is that in the midst of her parents, siblings, friends, etc., I can be a trustworthy resource who is willing to be there for her to give her my perspective and advice. That is the difference I hope to one day make."
Congratulations, Jana, on receiving the Iowa Big Sister of the Year Award! We are very proud of you, and we appreciate all you do for BBBSCI!
Would you like to make a difference in the life of a child? Learn more about becoming a Big like Jana by contacting Shayna Bell, BBBSCI Volunteer Enrollment Coordinator, at [email protected] or 515-288-9025 x227.