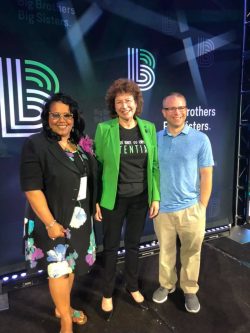 Local youth mentoring organization receives vital funding
CLIVE, IA, October 20, 2019 – Tyson Foods awarded Big Brothers Big Sisters of Central Iowa (BBBSCI) a $3,260 grant, allowing BBBSCI leadership to attend the Big Brothers Big Sisters of America National Conference this past June.
CEO- Renee Hardman and Director of Programs & Operations- Tony Leo attended this annual National Conference in Charlotte, North Carolina. The "Bigger Together" Conference included 3 days of workshops; a Diversity, Equity & Inclusion Summit; networking with Big Brothers Big Sisters of America National President Pam Iorio & Big Brothers Big Sisters affiliates; and an awards gala.
"Attending the National Conference ensures we continue to provide exceptional programming and support to our mentees and mentors," said CEO- Renee Hardman. "We are grateful for our partnership with Tyson Foods which allowed us to pause, learn, and execute new ideas."
In 2018, more than 550 youth, ages 5-18, were matched with positive role models in BBBSCI mentoring programs in Central Iowa. BBBSCI offers three core mentoring programs: Community-Based, School-Based and Workplace Mentoring. According to volunteers, parents, and teachers of Littles involved in our programs, 86% of Littles improved their self-confidence and 64% of Littles improved their academic performance.
About Big Brothers Big Sisters of Central Iowa:
Big Brothers Big Sisters of Central Iowa is the premier mentoring organization in Central Iowa. BBBSCI's mission is to create and support one-to-one mentoring relationships that ignite the power and promise of youth. Please visit www.bbbsia.org or call 515-288-9025 for further information.

Media Contact:
Sara Bishop, Communications Specialist
[email protected]
515-288-9025 ext. 238
www.bbbsia.org