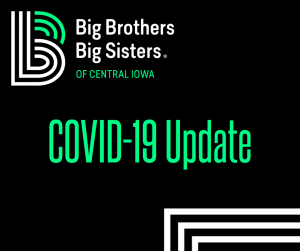 This message is from CEO Renee Hardman regarding COVID-19 on 3/18/2020 (Updated: 6/1/2020).
We have been keeping a close eye on the updates and conditions of the coronavirus (COVID-19) Pandemic. The Governor has declared a State of Public Health Disaster Emergency. To protect the safety of our Bigs, Littles, and their familes, we have made the following changes to our programs:
Community-Based matches are highly advised not to meet in-person. If Bigs would like to stop by their Little's home to say hi, please make sure this is okay with the Little's parent/guardian. Please do not go inside of the Little's home, stay 6 feet apart, and wear a mask (if possible). By the end of the week of June 1, we will share Phase 2 guidelines that are effective Monday, June 8, 2020 for matches meeting while physical distancing.
School-Based and Workplace Mentoring will not take place for the remainder of the school year.
Match Activities (organized by BBBSCI staff) will NOT be held until further notice.
If you have questions, need to discuss your particular situation, or advice on how to talk to your Little about COVID-19, please reach out to your Match Support Specialist.
It is so important that your Little knows that they are cared for and not forgotten. Social distancing can lead to isolation- we want people to be safe and feel connected with others so we're encouraging matches to stay in contact. We encourage matches to stay connected by texting, e-mailing, video-chatting or sending notes and/or cards. A weekly phone call with your Little to check in will mean the world to them.
*Please click here to view a list of regularly updated resources for matches, and activity ideas for Littles at home.*
Our office will be closed from Thursday, March 19, 2020 until Monday, June 8, 2020. During this time, the BBBSCI team will work remotely. We will interview volunteers and lead orientations via video conferencing. We will also interview youth desiring a mentor on calls and video. Perhaps most importantly, our Match Support Specialists will continue to serve as a hub for hundreds of families—providing resources for those who may be affected by loss of income, food insecurity, lack of healthcare, and anxiety due to the uncertainties related to COVID-19.
We are keeping in close contact with schools and local health officials, and we will alert you to any updates when they occur. You can also contact Tony Leo- Director of Programs & Operations at [email protected]; or me, Renee Hardman- CEO at [email protected].
Thank you for all that you do. We are here to answer any of your questions or concerns. Be safe and careful.
Best regards,
Renee Hardman
Chief Executive Officer
Big Brothers Big Sisters of Central Iowa
[email protected]
515-288-9025 x228