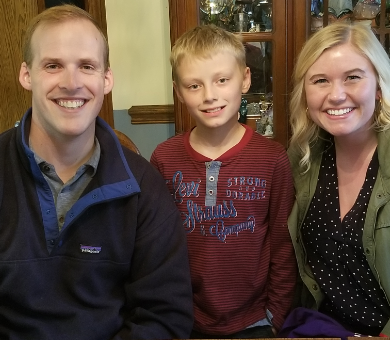 Brett Stefani and Megan Young volunteer as a Big Duo in BBBSCI's Community-Based Mentoring Program. Together they mentor Little Brother Ryder, age 11.
"Megan and I were looking for a way to get involved in our community and have a mutual interest in working with kids. When we heard Big Brothers Big Sisters had a Big Duo option, we were excited to sign up," explained Brett.
Over the past year, Brett and Megan have seen Ryder's silly side and personality develop.
One of Ryder's favorite things to do with Brett and Megan is getting breakfast (he loves pancakes!) and playing chess. Since COVID-19, they have stayed connected by FaceTiming and even took a virtual art class together. This summer, they have gone to the park and enjoyed ice cream while safely social distancing.
"Being a Big is a BLAST! Ryder is such an amazing kid and it has been so much fun participating in a variety of activities," said Megan. "It is a rewarding feeling knowing that we get to serve as role models for our Little, and we hope that we leave a positive, impactful impression on him for years to come!"
Our Big Duo option is great for friends, spouses, and family members to mentor together and make twice the impact! Learn how YOU can become a Defender of Potential like Brett and Megan by contacting Volunteer & Recruitment Coordinator Danielle Kuhn at [email protected].