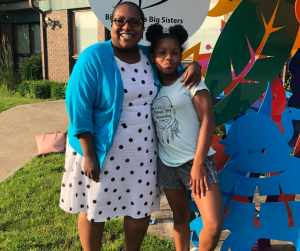 Big Sister Juanita Greer and Little Sister Aaliyah have been matched since June 2019 as part of BBBSCI's Community-Based mentoring program. Juanita and Aaliyah have developed a strong relationship throughout the past year and hope to maintain it long-term.
Aaliyah shares that the match does a number of activities, but her favorite has been spending time at the Des Moines Art Center with Juanita and exploring the various artwork in the Des Moines community. Aaliyah values her time with Juanita and shares she's able to be herself around her Big Sister, which is very important to her.
For Big Sister Juanita, being a Big is something close to her heart as she had a Big Sister when she was young and hoped she could be a positive influence and mentor like she had growing up. Juanita and Aaliyah have many things in common and value that their relationship is one they both are able to grow in, especially by learning and trying new things. As Juanita puts it, "What are you waiting for, it's time to sign up! The importance and impact you can have in a young person's life is a reward in itself."
Learn how YOU can become a Defender of Potential like Juanita by contacting Volunteer & Recruitment Coordinator Danielle Kuhn at [email protected].