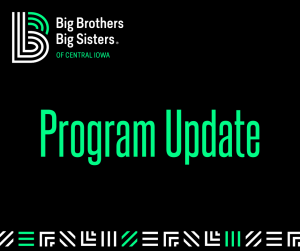 As is the case with many organizations, Big Brothers Big Sisters of Central Iowa (BBBSCI) has had to pivot regarding our approach to programming due to COVID-19.
This is especially true with our School-Based Mentoring and Workplace Mentoring programs, where mentors (Bigs) meet in a 1 to 1 setting with children (Littles). Typically, these meetings take place at the Little's school for the School-Based program or at the Bigs' company for the Workplace Mentoring program. However, due to COVID-19, both programs will take place virtually this school year. We have spent months developing curriculum and activities for matches to engage in together through a virtual platform such as Zoom. These opportunities will help fill the learning gap Littles are facing due to being away from school due to COVID-19. Additionally, each match is assigned a Match Support Specialist from BBBSCI to support and guide matches to develop a strong friendship, thus defending the potential of all Littles.
If you are interested in learning more about programs available through BBBSCI, please contact the Director of Programs, Tony Leo, at [email protected]g or 515-288-9025 ext. 226.