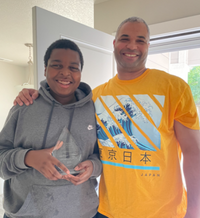 Congratulations to Iowa Big Brother of the Year: Sterling Smith!
Since receiving the Iowa Big Brother of the Year Award, Sterling and his Little Brother Adebayor, have talked a lot about what it means to be a Big and Little Brother.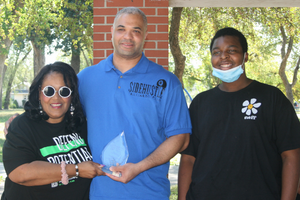 Adebayor told Sterling that he has felt like he's become family to him, has taught him right from wrong, and how to be a Black man in today's world, especially since Adebayor's father isn't present in his life. Sterling felt that although he won Big Brother of the Year, Adebayor deserved an award as well so he had a trophy made just for him titled "Little Brother of the Year."
Over the past two years, Adebayor has grown into a wonderful young man, with the help of his Big, Sterling, and his mom. He even ran for Student Council President during his freshman year in high school, something that he would never have had the courage to do before he met Sterling.
Thank you, Sterling, for being an outstanding mentor!