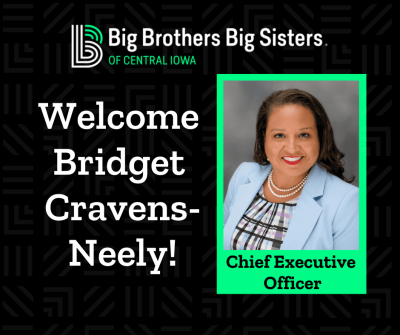 Big Brothers Big Sisters of Central Iowa (BBBSCI) announced the appointment of Bridget Cravens-Neely as CEO of the 54-year-old organization. Cravens-Neely, community leader and local business owner, began her position with the organization on June 21, 2022. Cravens-Neely succeeds Renee Hardman who previously served as CEO from July 16, 2018 to June 3, 2022. Hardman now serves as Chief Diversity, Equity & Inclusion Officer and Vice President of Human Resources at Broadlawns Medical Center.
Having worked in the insurance industry for 30 years, Cravens-Neely most recently served as a Farm Underwriting Manager at Nationwide. Cravens-Neely also co-owns with her husband Bottle & Bottega Des Moines, a wine and art party business located in Downtown Des Moines. Her educational background includes a Bachelor of Science degree in Mathematics from Illinois State University and a Masters of Business Administration in Entrepreneurship from Keller Graduate School of Management.
Throughout her career, Cravens-Neely has held various roles from formal people leadership to individual contributor. Her experience includes positions in administration, operations, sales, service, project management, and organizational leadership. These roles have established her brand as a thought leader who is collaborative, entrepreneurial, and innovative.
At a very young age, Cravens-Neely was taught the value of possessing a strong character – particularly one that emulates a "paying it forward" attitude. In addition to her career, she has raised three sons and is very active in the greater Des Moines community. Her passion to serve others comes from family influences. She credits her mother and the people who opened doors for her and invested in her as the reason she has achieved success in her life. It is also because of these influencers that Cravens-Neely's passion is mentoring young people and sharing her life lessons with them. "Perception is the opportunity to learn the truth" is one of Cravens-Neely's personal mantras that keeps her grounded.

BBBSCI Board President, Rob Dixon, said, "On behalf of the Board of Directors and staff, we are ecstatic to welcome Bridget as CEO. We are confident her skills and experience in the areas of leadership, fundraising, operations, strategy, and advocacy will continue to make BBBSCI the premier non-profit in Central Iowa."
Cravens-Neely has made an impact through her professional and civic work in the Des Moines community. In 2017, Cravens-Neely received the Greater Des Moines Leadership Institute's 2017 Alumni Volunteer Award. She currently serves in organizations like the Iowa Alumnae Chapter of Sigma Gamma Rho Sorority, Inc.; the Des Moines Chapter of The Links, Incorporated; Greater Des Moines Leadership Institute; Women Lead Change (Central Iowa Conference); Many Shades of Colour Conference; the Willkie House; the YMCA MLK Prayer Breakfast Steering Committee; and Minorities in Agriculture, Natural Resources, and Related Sciences (MANRRS). She also serves on the Business Record's Racial Equity Advisory Board and the Chrysalis Foundation's Board of Directors.
Bridget describes her motivation for serving in her own words: My mother taught me early in life that it is my duty and responsibility as a human being to reach back and bring others forward with me on my journey. I have taken this assignment to heart. This is why mentorship and sponsorship are so very important. We cannot thrive in this life alone. It takes a village. I fully intend to continue building that village at BBBSCI.
Connect with CEO- Bridget Cravens-Neely by contacting her via email: [email protected] or office phone: (515) 215-9974.